One of the best things about today's world is the abundance of choices we have when shopping. But as we all know, the endless options can also be a curse. How do you know you've made the right choice? What if there's something better out there? This is true across every facet of life, including something as simple as diagramming tools. Thankfully, we've done the research for you, and have created an ultimate comparison guide for Gliffy and Visio, two excellent diagramming tools for your business or personal use.
What is Gliffy?
Gliffy is a US-based diagram tool made by software engineers, for software engineers. But Gliffy isn't just for the software industry; other businesses and designers can benefit from these services as well. It's relatively cheap, with several pricing options and a limited free trial, and has all of the basic features you need to create.
Learn more about Gliffy in Lucidchart vs. Gliffy article.
What is Visio?
Microsoft's Visio is a cloud-based diagram tool used by engineers and designers all over the world. Like Gliffy, you can create diagrams using an easy drag-and-drop system. As part of the Microsoft family, Visio users can benefit from a ton of Microsoft compatibility, which makes it a great choice for Microsoft-based offices.
Check out our detailed comparison of Visio and Smartdraw.
What are the key features of Gliffy and Visio?
Make your own diagram with Gleek.
Gliffy and Visio offer similar features and benefits. Both offer templates, collaboration options, and have similar interfaces. 
Customer base and accessibility
So who uses Visio and who uses Gliffy? It may not seem like an important question, but knowing the profile of the average user can tell you a lot about who will benefit the most from these services.
Gliffy is focused on providing support to software engineers, but can be used by people in other industries. They provide plans for small businesses and large enterprises. Visio can be used by groups or individuals of any size, from freelancers all the way up to large businesses.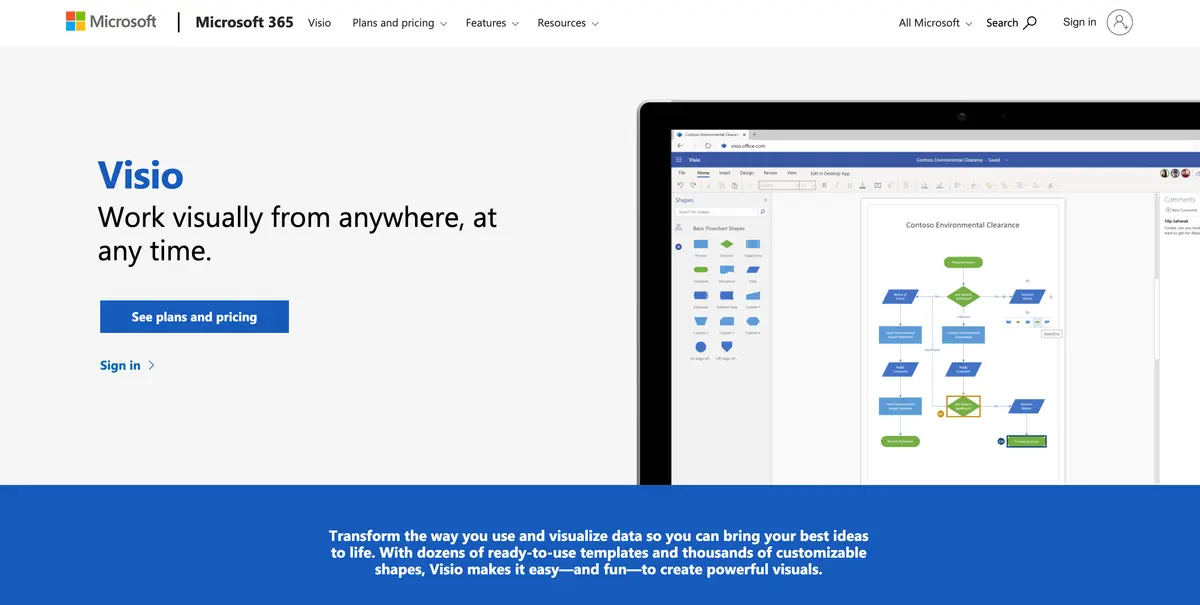 Visio homepage
As for how to use these tools, both offer online usage, and Visio has a desktop program. Gliffy can be used with Confluence or Jira, and Visio offers compatibility with Microsoft OneDrive. Currently, Visio can be used on mobile Apple products, while Gliffy cannot be used on any mobile devices.
Diagram types and templates
Both services allow the user to create flowcharts, mind maps, UML diagrams, floor plans, and brainstorming tools. You can find free diagram templates on both apps, as well as shape libraries. However, with Gliffy, you cannot customize the templates provided.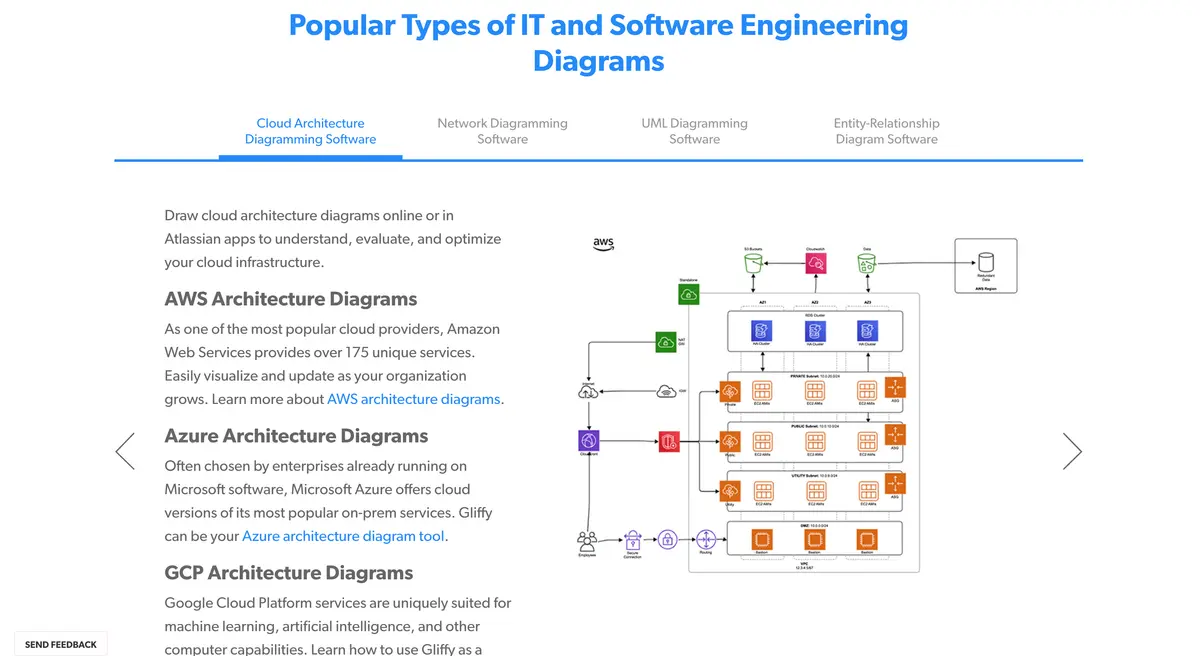 Gliffy diagram types
While they share many diagram types, Gliffy offers wireframe creation, whereas Visio does not currently have that capability. Visio makes up for not having this with features like hierarchical mapping, options for schools, and freehand sketching.
Integrations
As for third-party integration, Gliffy works with the following apps:
Lucidchart

Slack

Trello

G Suite

WordPress

Confluence

Jira

more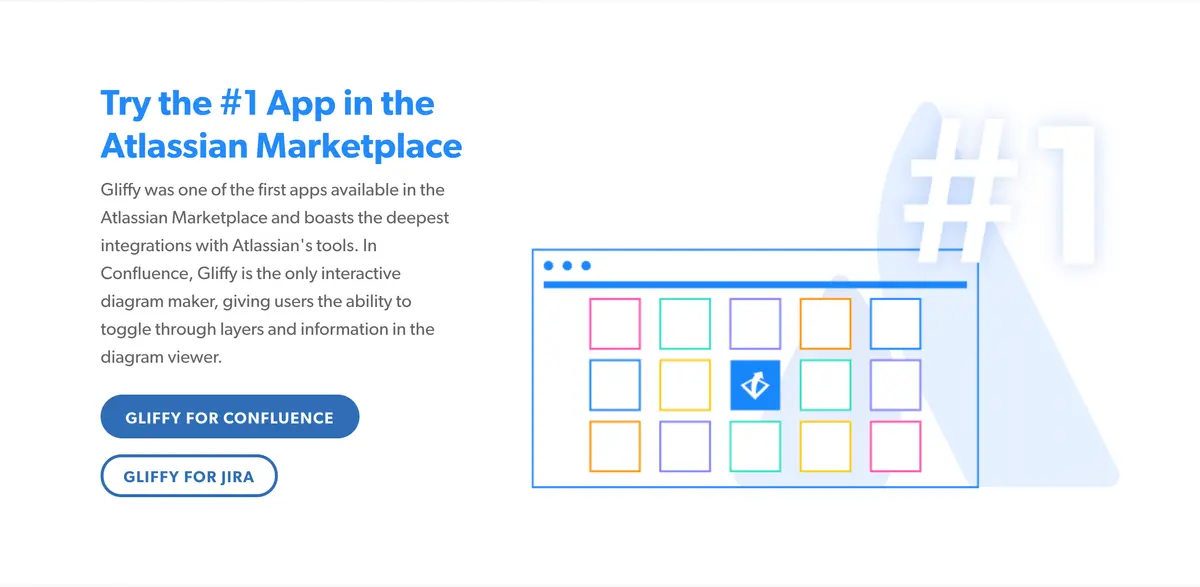 Gliffy integrations
Visio can be used with these apps:
Lucidchart

OneDrive and Microsoft 365

TestModeller

AxisTV Signage Suite

netTerrain Logical.
As you can see, these services are compatible with very different third-parties, so if you use other apps, this will have a large impact on how you or your team functions. Importing and exporting files is possible with both Visio and Gliffy. As companies change to suit the market, you may find that both apps increase their compatibility in time. Be sure to check for updates, or write them directly to see if they have plans to integrate with other apps in the near future.
Learn more on what are Top Visio alternatives on the diagramming market.
Collaboration features
Visio and Gliffy support real-time, remote collaboration in the form of editing, commenting, and sharing via URL, embedding, or through a third-party app. However, Visio makes team collaboration easier and more involved. With Visio, users can log on to Microsoft Teams to work together, upload employee photos, and co-author with other team members.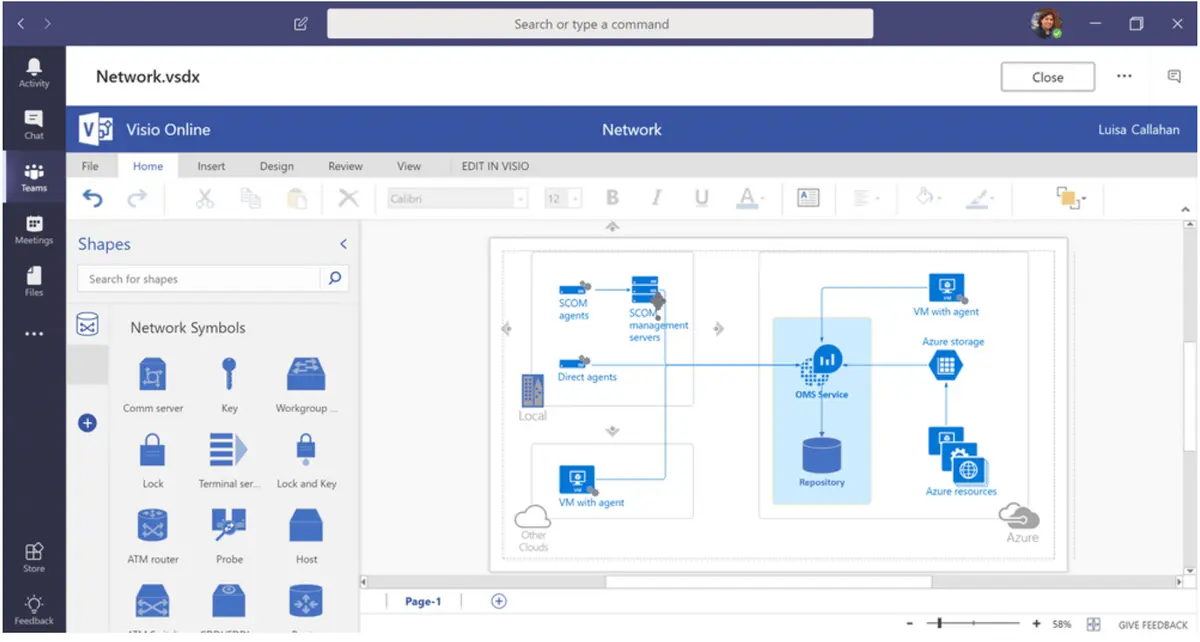 Tutorials
Both Gliffy and Visio are relatively easy to use, but that doesn't mean they're without challenges for new users. This is where tutorials come in handy.
Gliffy has many written how-to guides, on creating certain diagrams, using dashboard features, and more. They also have a helpful search feature that lets you filter out results based on your needs. Categories include Gliffy for Confluence, Jira, and a getting started section. Unfortunately, Visio does not currently have any tutorials or guides on how to get started. Neither offer any video tutorials at this time.
Pricing
If you choose to go with Gliffy, you have multiple plans to choose from, based on the size of your team, whether you're using the online version, or with Confluence and Jira. Gliffy offers free two-week trials, during which you have access to all features. For enterprise pricing, Gliffy requests that you contact them for a quote.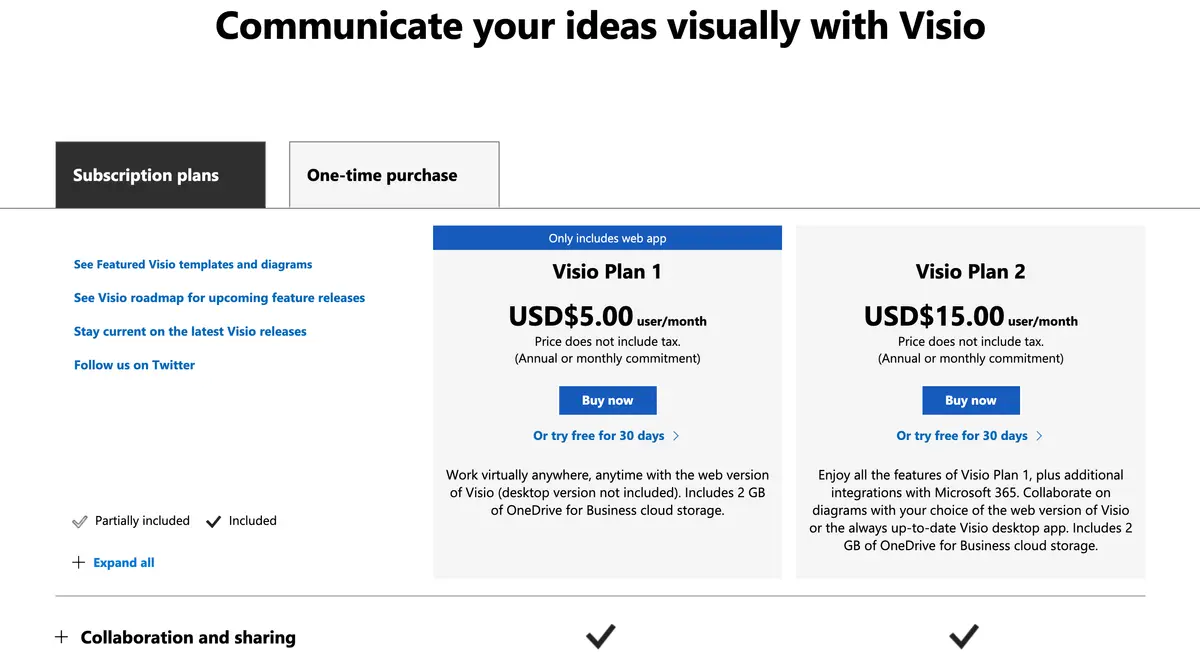 Visio pricing
Gliffy Professional
$8/month per user for teams of 1-9 people

$6/month per user for teams of 10-50 people
Gliffy for Confluence and Gliffy for Jira
$10/month for up to 10 users

$3.80/month per user for teams of 11-100
Visio's pricing plans are more straightforward, and you can choose between two plans, either as a subscription or a one-time purchase. All plans are available for a 30-day free trial.
Visio 1
Web version only

$5/month per user

$330 one time purchase

2 GB of storage on OneDrive
Visio 2
Desktop and web versions

$15/month per user

$650 one time purchase

All benefits of Visio 1 and integrations with Microsoft 365 apps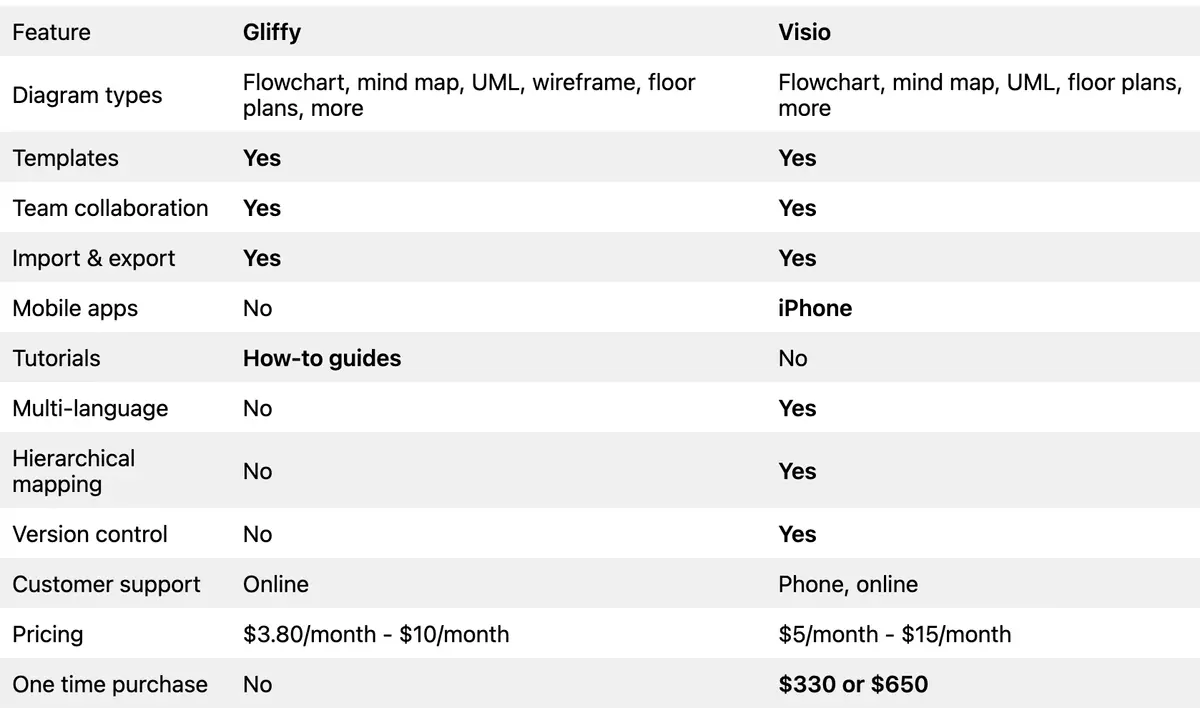 Which is better: Gliffy or Visio?
Even though both of these services offer many similar ways to create and use the app, the main difference lies in the complexity of the diagrams you can make. If you want a program that can work well with other Microsoft products, has more functionalities outside of software development, and has better real-time collaboration, Visio is a great choice. Gliffy is best suited for software engineers who don't need a lot of extra features like color coding or employee photos.
Take a look at our post comparing Draw.io and Lucidchart for more information on other diagramming tools.
Tired of dragging and dropping? There's a text-to-diagram tool, namely, Gleek. Gleek allows you to type commands that are converted into a diagram in real-time. It's easy to use, free to start, and all you need is a keyboard.
Make your own diagram with Gleek.
Not only can you create an unlimited number of diagram options and files, you can also export in several formats, including high resolution or PDF. There are also video tutorials to help you get started, as well as auto-completion text that helps you find what you need without any guess work. To see what Gleek is all about, check out pricing plans here.
Related posts
Lucidchart vs Gliffy: a detailed comparison 2022
Smartdraw vs. Visio: Which tool is best for you?
Draw.io vs. Lucidchart: Which is better in 2022?