Do you often work on large, complicated projects by yourself or with a team? Chances are you've heard of LucidChart and Gliffy. Both of these services provide easy-to-use diagramming tools for all types of projects. From flowcharts to mind maps, diagrams are used to organize, collaborate, and track progress on projects or plans.
Lucidchart is one of the most popular diagramming tools on the market, and for good reason. Lucidchart is easy to use for even the most technically challenged and can integrate well with many of your favorite apps and operating systems. Gliffy is the other titan in the diagramming tool industry. Like Lucidchart, it's easy to use, drag and drop, and compatible with Confluence and Jira.
Make your own diagram with Gleek.
Lucidchart vs. Gliffy
Gliffy and Lucidchart have been in a heated competition since they both emerged on the scene. Let's dive deep and compare all of their perks and services.
Check our recent Lucidchart vs. Miro comparison.
Customer base
Lucidchart is used by more types of people than Gliffy. Gliffy is for users from small businesses all the way up to large enterprises, while Lucidchart works for individuals to corporations. Lucidchart also offers information on how you can use their diagrams in various business aspects, such as HR, IT, process development, and sales. Gliffy is more focused on catering to software developers.

Lucidchart solutions
Features
Gliffy offers basic features for those who aren't in need of a lot of bells and whistles. You can drag and drop onto your diagrams, choose from different templates, see revision history, and import/export data with Confluence and Jira. Several other features make Gliffy easy to use and compatible with your workflow.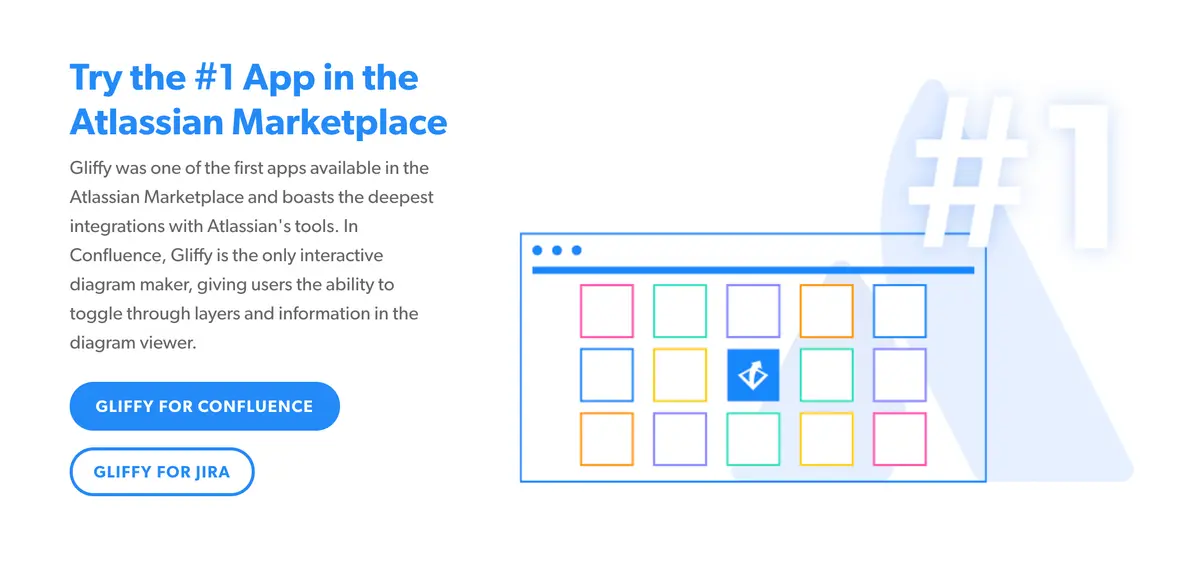 Gliffy Confluence integration
However, Lucidchart has many more features to benefit from. Things like the ability to use it on any device, secure log in, a graphics library, and automatic backups give Lucidchart a leg up over Gliffy. Lucidchart also has a lot of tutorials based on what type of diagram you'd like to create, which are helpful for first-time users.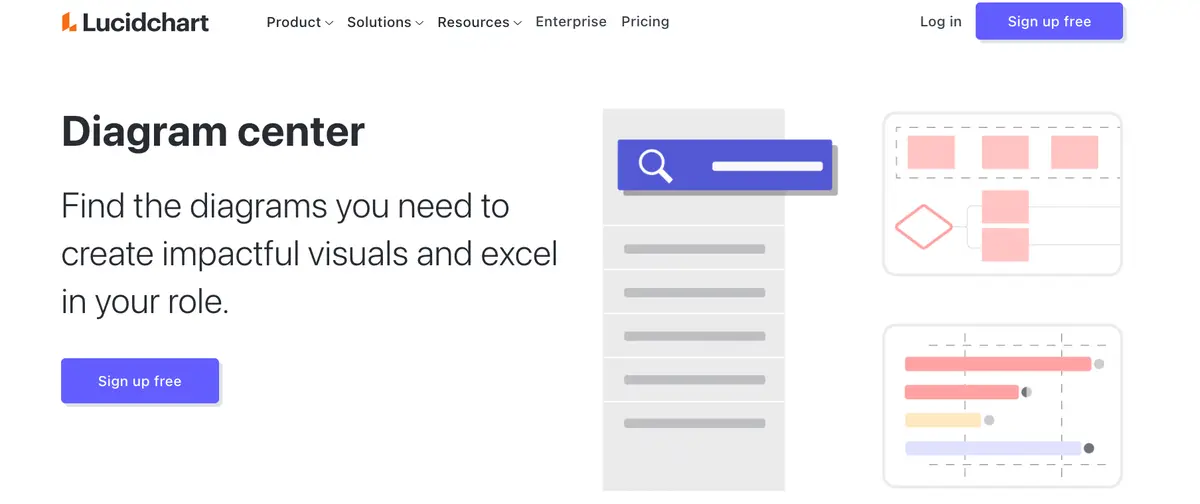 Lucidchart tutorials
Diagram types
Of course, the most important information you need about these two companies is what kind of diagrams you can make with them. Both have templates for Venn diagrams, flowcharts, mind maps, swimlane diagrams, and wireframes. Gliffy offers templates for designers, IT professionals, and software developers. Lucidchart offers these, as well as templates that can be used in sales, HR processes, and project management.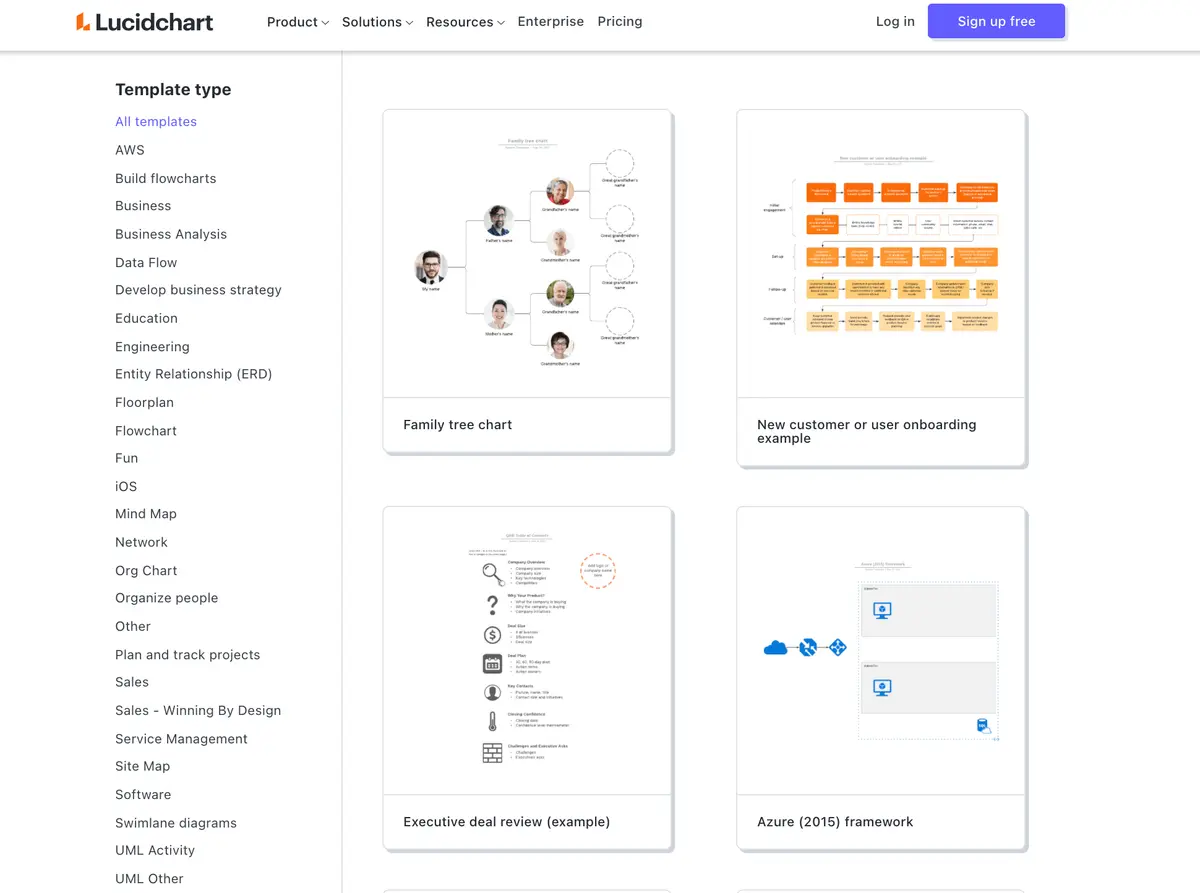 Lucidchart templates
Compatibilities
Lucidchart works with Slack, Dropbox, Microsoft products, Google Drive, and more, but does not work with Confluence or Jira. On the other hand, Gliffy has specific apps for Confluence and Jira that make integration smooth, and can also be used with Slack, WordPress, and G Suite.  So, if you need to integrate with a lot of other programs, then Lucidchart is for you. However, both services update consistently, so it's likely that in the near future you'll be able to integrate with even more programs.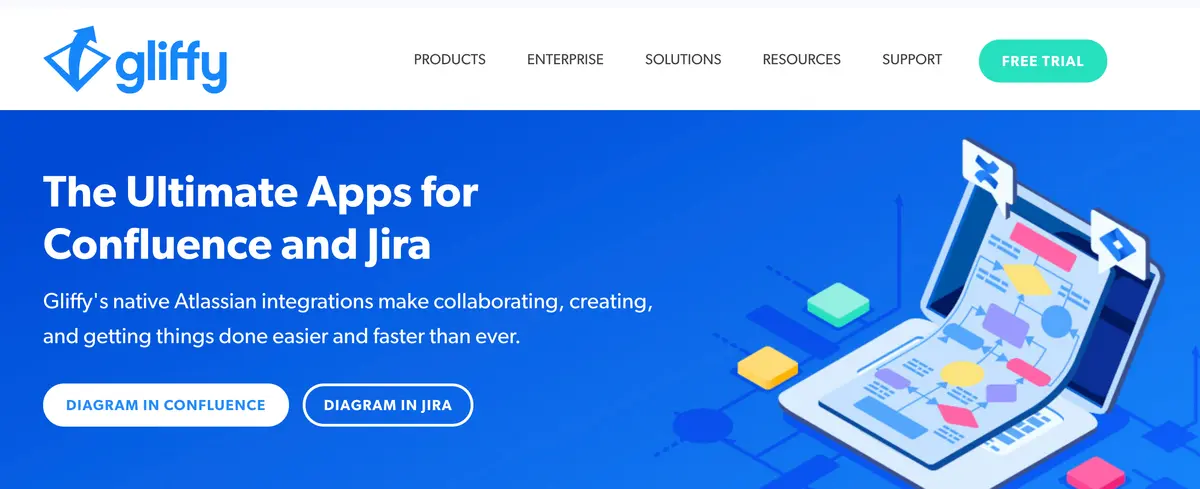 Gliffy apps for Confluence and Jira
Collaboration
Both Lucidchart and Gliffy have excellent collaboration features that allow teams to work remotely in real-time. You can collaborate with all the members of your team, get the most up-to-date links and resources from other team members, and integrate with other workflow programs. Overall, there aren't many differences in this category. Gliffy and Lucidchart will both provide you with a great place to work with your team from across the country, or across the world.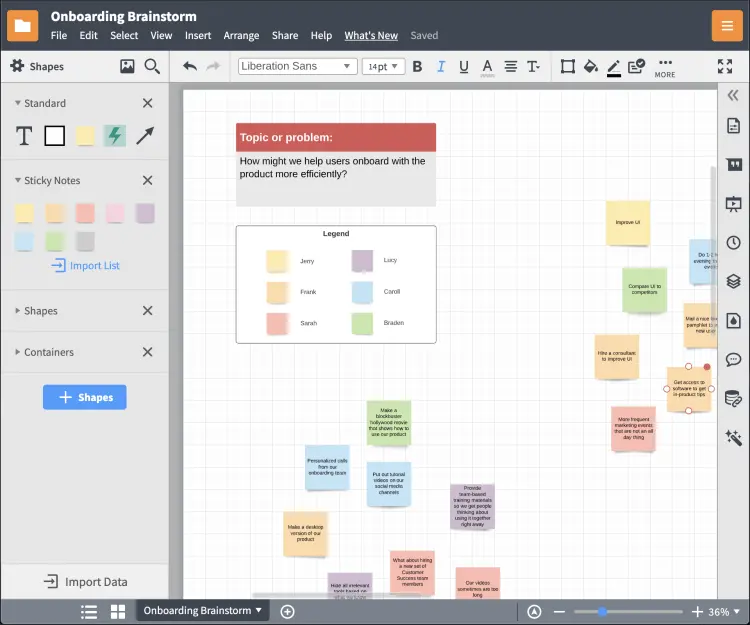 7 best practices for collaborating in Lucidchart
Pricing
Currently, both Gliffy and Lucidchart have free-to-use options. Lucidchart has a free version with basic collaboration features, access to 100 templates, and storage of 3 editable documents. Gliffy offers a free 2-week trial, during which you can use all of their features.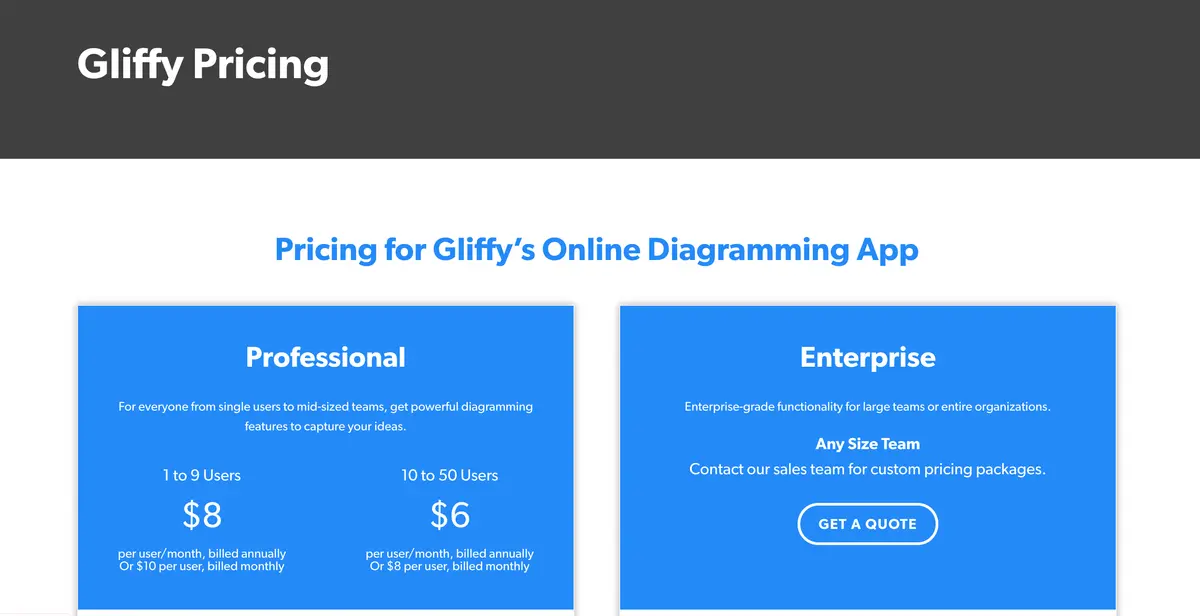 Gliffy pricing page
For enterprises, both companies request that you contact them for a pricing plan.
Lucidchart's pricing options for individuals or small teams range from around $6.50 to $8.00 per month. Gliffy offers more pricing options, for teams and individuals, as well as Gliffy for Jira or Confluence, ranging from just under $4.00 to $10.00 per month. If you're looking for a more customizable pricing plan, Gliffy is the winner in this category.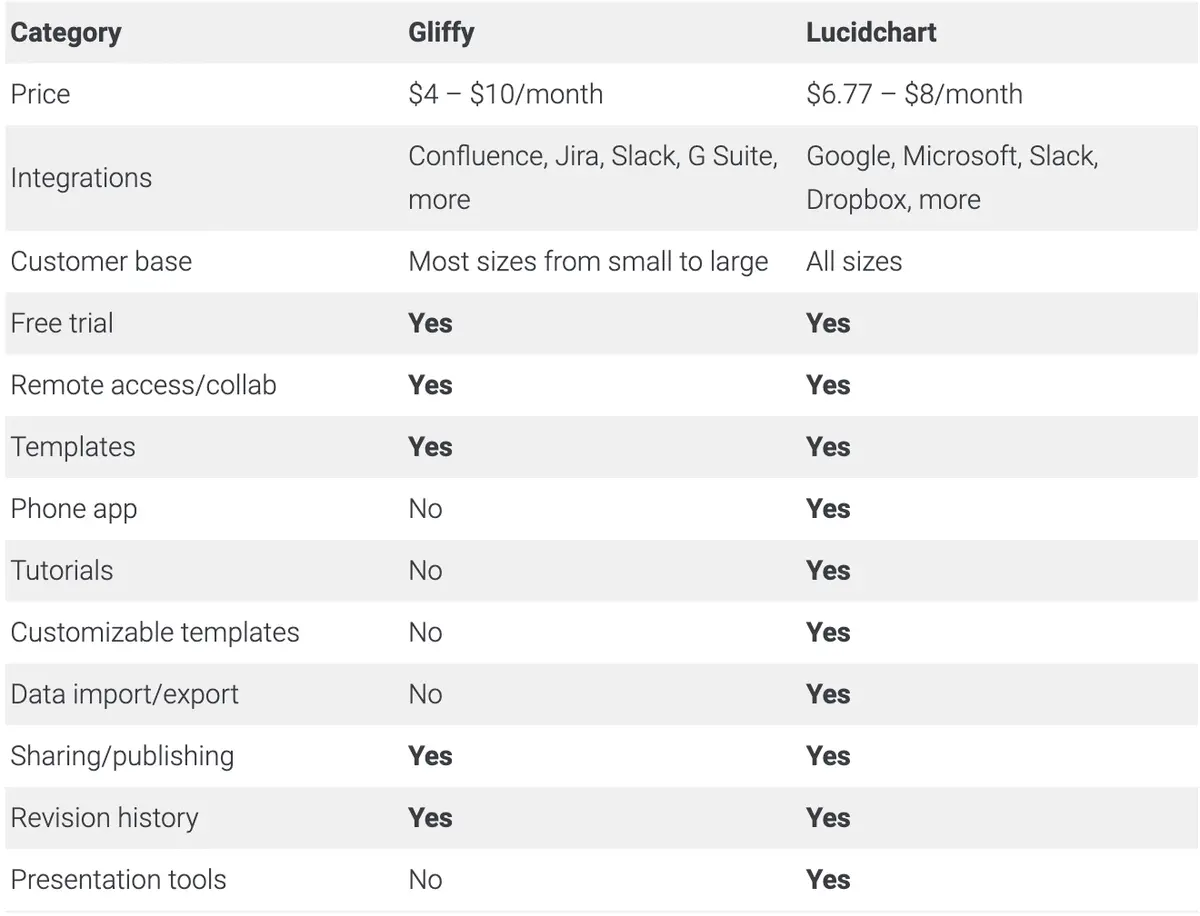 Which is better?
We're finally at the all-important question: which one is better? Of course, the answer lies in your individual needs, budget, and opinion on the topics listed above. However, when comparing these two services, Lucidchart offers more features, integrations, and customization. For those of you who are looking for a site that is extremely easy to navigate, Lucidchart also has a slight edge over Gliffy. The only downside is that you'll have to pay a little bit more each month than if you went with Gliffy, but the benefits are definitely worth the extra couple bucks.
Check out what Lucidchart alternative tools are out there.
Gleek: a new diagramming tool
Tired of dragging and dropping? There's another option, namely, Gleek. Gleek is a text to diagram tool that allows you to type commands that are converted into a diagram in real-time. It's easy to use, free to start, and all you need is a keyboard.
Make your own diagram with Gleek.
With Gleek's free plan you gain access to all diagramming tools, but with the premium and team plans, you can get so much more. Not only can you create an unlimited number of diagram options and files, you can also export in several formats, including high resolution or PDF. There are also video tutorials to help you get started, as well as auto-completion text that helps you find what you need without any guess work. Check out how to start with Gleek!
Related posts
Draw.io vs. Lucidchart: Which is better?
Smartdraw vs. Visio: Which tool is best for you?
Draw.io vs. Lucidchart: Which is better in 2022?