We've talked about Lucidchart plenty of times in the past, but how does it stack up against Miro?  Lucidchart and Miro are two amazing diagramming tools used by software developers for plotting out databases. These services aren't just for developers though, people from all industries can benefit from a well made diagram.
Lucidchart vs. Miro – which is the best for your needs? Read on to find out how they compare.
What is Miro?
Miro is a whiteboard-style collaboration tool that allows users to create charts and diagrams, while doubling as a platform for meetings, presentations, and real-time team work. Miro was founded in 2011 under the name RealtimeBoard, and eventually grew into the Miro we know today. They are based in both Amsterdam and San Francisco, with hubs throughout the world.
What is Lucidchart?
Lucidchart is a popular web-based diagramming tool that allows users to share, draw, and revise charts and diagrams with a heavy focus on services for developers. Lucidchart was founded in 2010 and is based in Utah. Today, Lucidchart is one of the top choices for teams of all sizes, from freelancers all the way to large enterprises.
Key features of Miro
Use and functionality
Miro's digital whiteboard is where all the magic happens. Users can choose from an appropriate template, or begin with a blank canvas. Miro can support you throughout the entire design process, from brainstorming to action planning. Their intuitive menu has options for shapes, sticky notes, and other features to make your diagram functional and easy to read. Additionally, you can embed PDFs and images into the board via drag and drop.
Make your own diagram with Gleek.
When you're done with your diagram, you can share with other team members and allow them to leave comments, ask questions, or make changes to the diagram. There is also the option to assign actions to other team members.
Integrations – Miro can integrate with other programs just as Jira, Trello, Zoom, Slack, Asana, and more. Miro's main focus is to help remote teams collaborate, so it is cross-compatible with most major platforms and file types.
Templates – Along with a basic shapes and connectors library, there are many different diagram templates to choose from. Choices include flowcharts, mind maps, UX projects, UML diagrams, and many other Agile and planning templates.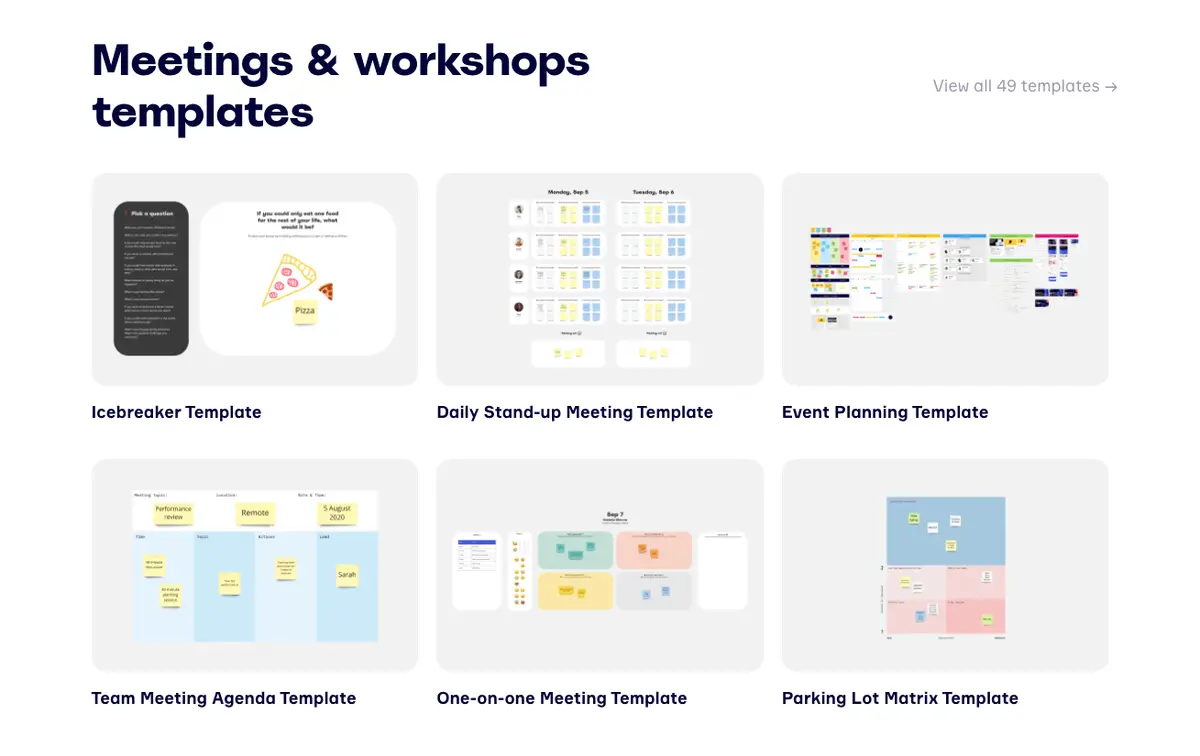 Miro templates
Tutorials – The Miro Academy is a collection of video-based courses that can get you acquainted with all the features Miro has to offer. There are also live courses to register (and pay) for based on topics like getting started with Miro, and how to run Agile ceremonies. There are also written guides on how to collaborate remotely for free.
Pricing – There are four ways to use or buy Miro.
Free for life – The free option is for an unlimited number of members, and they can use up to three boards, the template library, and basic integrations (Slack, Teams, Zoom, Trello, Google Drive, etc.).
Team – $8/member/month billed annually. Teams can be a minimum of two members, have unlimited and private boards that can be edited, and project folders. Teams can also invite visitors to view their boards without requiring them to sign into Miro.
Business – $16/member/month billed annually, and a minimum of five members. Along with access to the features in the Free and Teams plans, Business users can use Miro Smart Diagramming, which has a more robust shapes library, and more network and cloud programs.
Enterprise – Price agreed upon after consultation. This package includes all features from other packages, all security features, SIEM integrations, licensing programs, 24/7 support, and more.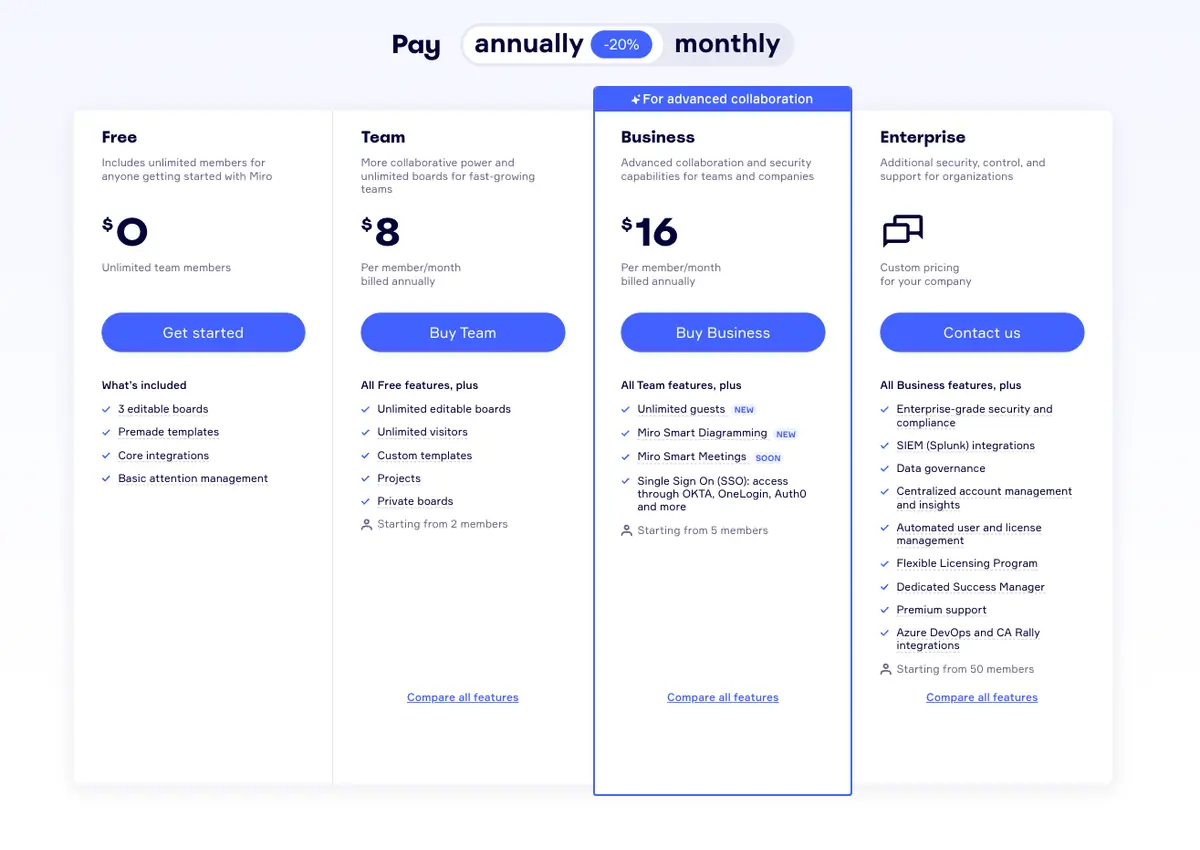 Miro pricing
Support – Miro has a help center for all users, but only Enterprise users can access premium support, personalized on-boarding, and have a success manager.
Key features of Lucidchart
Lucidchart is a drag and drop tool geared towards developers and educators, but it can be used by professionals in many other industries. With Lucidchart, you can work in real time with their chat feature, leave comments on specific shapes, and overlay data on any part of the diagram. They also have a shapes library and a template gallery.
Integrations – Lucidchart works with Google Workspace, Atlassian, Microsoft products, Slack, AWS, and more. There's also the ability to import diagrams from other programs like Visio, Gliffy, Draw.io, and OmniGraffle.
Speaking of other diagram tools, check out our posts about how Lucidchart compares to Gliffy and Draw.io.
Templates – Being more focused on services for database design, Lucidchart offers templates for all types of UML diagrams, flowcharts, mind maps, ERDs, wireframes, org charts, and many others.
Tutorials – Lucidchart has free video and written tutorials for all users on how to get started and other topics in their Learning Campus. However, Lucidchart's tutorials are all free, while many of Miro's are behind a paywall.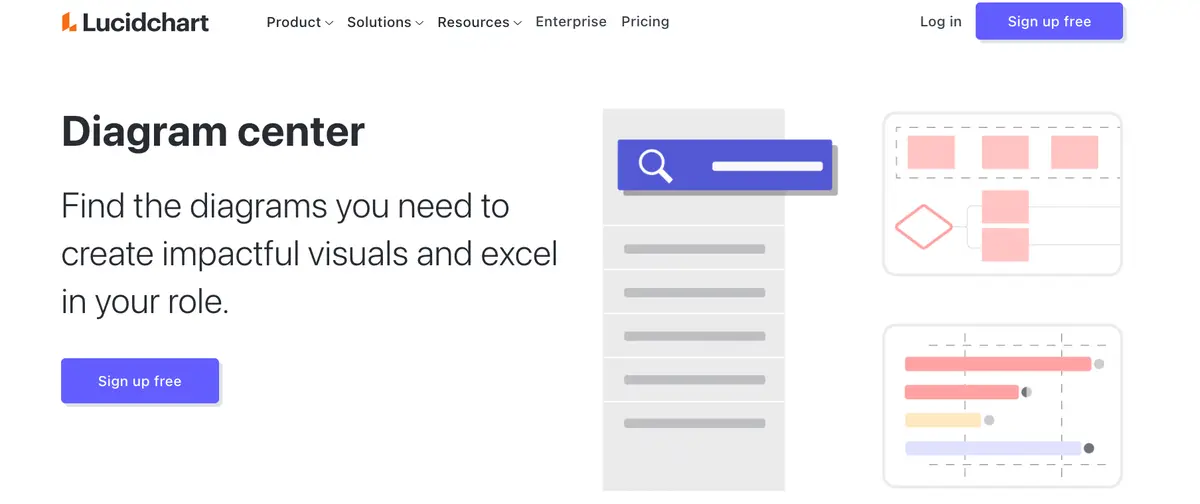 Lucidchart tutorials
Pricing – There are now four ways to pay for Lucidchart, as well as the option to bundle Lucidchart with their other product, Lucidspark, which is a whiteboard app similar to Miro. The pricing options below are for Lucidchart only.
Make your own diagram with Gleek.
Free – Three editable charts with up to 60 shapes in each, and 100 templates to choose from.
Individual – Free trial, and then $7.95/month after. Individual users can have unlimited charts with an unlimited number of objects, premium access to the shapes and templates library, 1 GB of storage, import from Visio, and presentation mode.
Team – $9.00/user/month with free trial. Along with the other benefits, Team users can comment, see the revision history, access more integrations, and have password protected publishing.
Enterprise – Price is agreed upon with Lucidchart after a consultation. Enterprise users have the added benefits of team folders, setting document statues, domain control, IP whitelisting, and making sharing restrictions.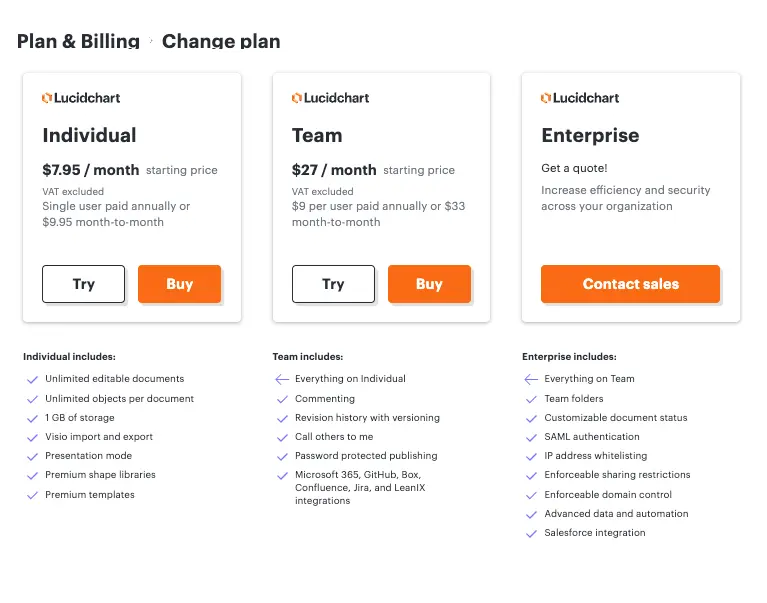 Lucidchart pricing
Support – Most support is provided via the text-based help center, and there are no support benefits in their pricing plans. If needed, you can contact them by email.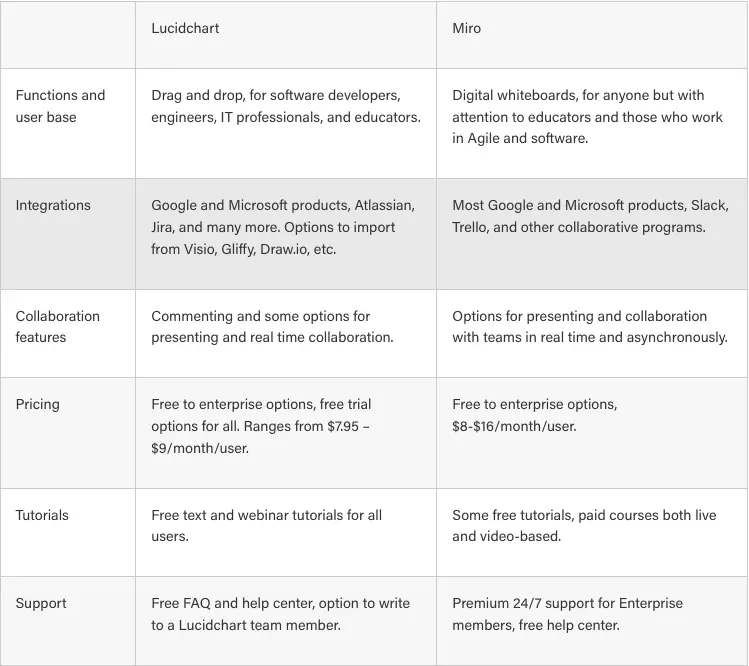 Are you tired of clicking and dragging over and over when making diagrams? With Gleek, you can make diagrams without wearing out your pointer finger on the mouse using just your keyboard. Gleek supports the creation of flowchart, sequence, and entity-relationship diagrams for all your database designing needs. The best part? You can get started for free.
Related posts
Lucidchart vs Gliffy: a detailed comparison 2022
Smartdraw vs. Visio: Which tool is best for you?
Gliffy vs. Visio: The ultimate comparison 2022