Diagrams are an essential part of planning, no matter what industry you're in. They help us, and the people we're explaining our ideas to, turn complex concepts into visuals that are easy to understand and change. Diagrams are especially helpful in the software development world, where explaining how systems work can be difficult. 
However, there are so many diagramming tools to choose from. How can you know which one is the best for your needs? We have discussed other tools in the past, but today we will focus on the differences between Smartdraw and Visio.
What is Smartdraw?
Smartdraw is a diagramming tool for individuals, small businesses, and enterprises that was created by Smartdraw Software in 1994. With this tool, users can create flowcharts, organizational charts, floorplans, and more. No matter how large or small your team is, everyone can benefit from choosing Smartdraw.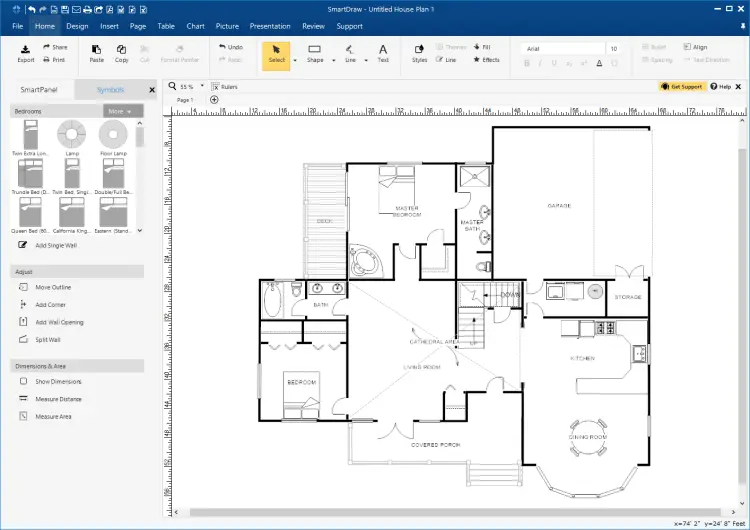 Smartdraw floorplan
What is Visio?
Visio is a cloud-based diagramming tool, and is part of the Microsoft family. Users can create many types of charts, like Smartdraw, using a fast and easy drag-and-drop interface. Visio is easy to use for teams of all sizes, and has several different ways to buy or subscribe.
Check out our guide on the Top 8 Visio alternatives.
Visio business process diagram
Key features of Smartdraw and Visio
Supported platforms
Before you get started, you need to know where and how you can use these programs. Smartdraw is web-based only, whereas Visio is web-based and also has apps for Apple and Android products. Smartdraw only works on Windows, and Visio works on Windows, Mac, and on-premise Linux.
Want to hear our take on Lucidchart vs. Gliffy? Check out our Lucidchart vs Gliffy: a detailed comparison article on the matter.
Features
Smartdraw and Visio have a lot of similarities. Both are drag-and-drop, have collaboration and integration features, and both have a large library of templates to use as a jumping off point.
Make your own diagram with Gleek.
Smartdraw allows you to create mind maps, infographics, decision trees, software designs, and much more. Visio offers much of the same, but some templates are not available in this standard plan, like mind maps and org charts. SmartDraw also has an intelligent formatting engine, which will automatically change the format when you add, move, or delete shapes.
Need to collaborate with your team? On Smartdraw, users can leave comments on shapes, and share files or hyperlinks on Google Drive or with Microsoft Office. Teams can also use shared folders to keep all relevant files easy to find for the whole office. On Visio, users can see real-time edits and what other team members are doing. It's also possible to share progress through Microsoft Teams and OneDrive. Both programs make it easy to work with the other members of your team, but Visio has better real-time capabilities than Smartdraw.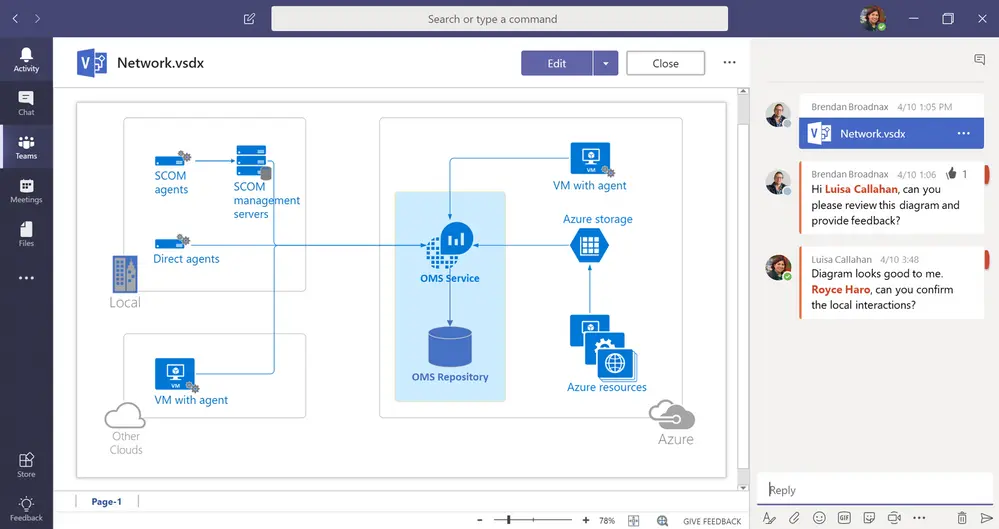 Visio team collaboration
For technical problems or other questions, both programs offer support through email or help desk, a knowledge base, and chat support. Smartdraw has 24/7 live representative support, and Visio has a robust FAQ section.
Integrations with other programs
Visio and Smartdraw are compatible with other software programs, but Smartdraw is able to integrate with more. Visio works with all other Microsoft products, but no others. On the other hand, Smartdraw is compatible with Jira, Confluence, some Microsoft programs, Trello, and Google Workspace. Smartdraw can even import and export with Visio.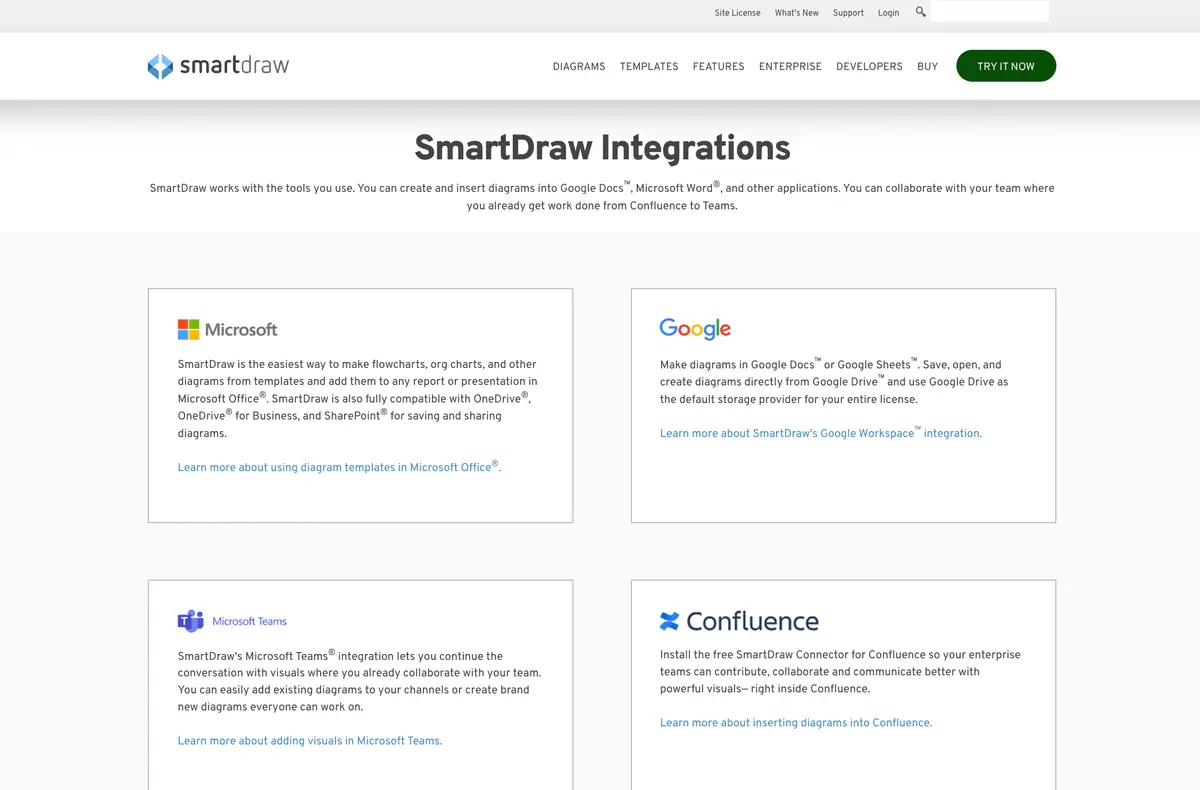 Smartdraw integrations
Tutorials
While Smartdraw and Visio have video tutorials available, Smartdraw offers many more than Visio. On Smartdraw, they explain different diagram types, how to make them, as well as helpful times in article form. If you need a more hands on approach, you can attend a webinar, or get live online support.
Visio also has an article for beginners that gives a step by step description on how to create a diagram. They lack many of the video tutorials Smartdraw has, and do not offer live online support or webinars.
Pricing
There are several ways to purchase Visio. Firstly, there are two subscription based plans. Visio Plan 1 is $5.00/user/month, and offers all of the collaboration and sharing features. However, if you go with this plan, you will not be able to use the more specific templates for things such as floorplans or core education. Visio Plan 2, priced at $15.00/user/month, gives you access to every feature. If subscriptions aren't for you, you can make a one time purchase of Visio Standard or Visio Professional, which will be licensed to one PC only. The Standard version costs $370, and Visio Professional is $720.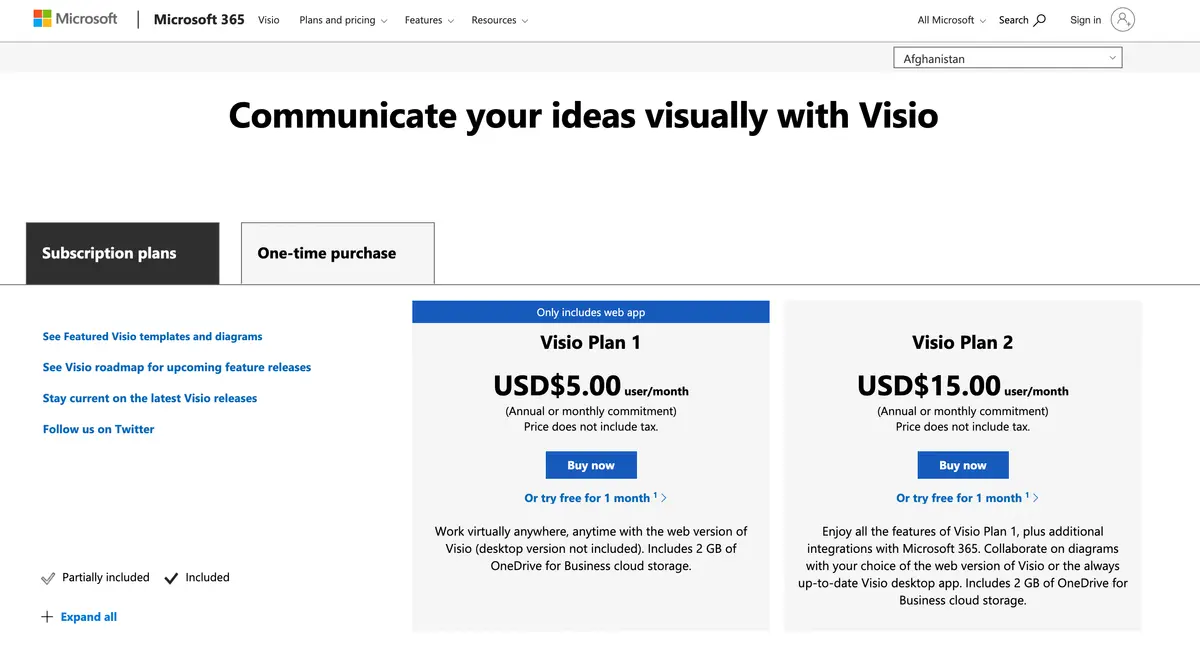 Visio pricing
Smartdraw has three options to buy, and does not have tiers. The Individual plan costs nearly $10 per month, and the Team plan costs $5.95 per user per month, with a minimum of 5 users. Teams get the benefit of premium support, a team folder, and administrative controls. Alternatively, your company can purchase Smartdraw for $2,995. Benefits of purchasing for this price include everything in a team license, as well as multiple team folders, SSO, and a theme for your company.
Make your own diagram with Gleek.
Smartdraw does not offer a free version, but you can try it for free. Visio offers both a free version, and free one month trials for both Plan 1 and Plan 2.
Check out or another comparison article on  Draw.io and Lucidchart for more information on other diagramming tools.
Customer base
Visio and Smartdraw have the same customer base, which is everyone. Freelancers, small and medium-sized businesses, and large corporations all use both of these programs. Smartdraw proudly serves customers such as FedEx, Tesla, and the NIH. Visio does not share their biggest customers, but it is safe to assume that because they are part of Microsoft, that many companies all across the globe benefit from Visio.
Looking for other diagramming options? Check out Gleek, a tool that lets you create diagrams using just your keyboard. Create flowcharts, UML diagrams, or entity-relationship diagrams with just a few keystrokes. Gleek has real-time collaboration features, pre-designed templates for quick creation, and version control. Tutorials and an easy to use interface let you hit the ground running and get your work done without a steep learning curve. The best part? You can get started for free.
Related posts
Lucidchart vs Gliffy: a detailed comparison 2022
Draw.io vs Lucidchart: Which is better in 2022